Port Services - TECON
Sepetiba Tecon is one of the country's main container terminals, offering a modern infrastructure and strategic location to importers and exporters from the most important destinations and origins. With better facilities, services and capacity than the average of national terminals, the terminal has become the ideal port for concentration and distribution of loads in the South Atlantic.
Among the several services provided by the terminal, the Porto-a-Porta (Port-to-Door) offers to customers of Sepetiba Tecon an integrated logistics solution. This service unloads the containers at the port and delivers it at the destination by railway. Everything in made in a practical way, with all fixed costs included, integrated coordination of the logistics chain and commitment to service levels. Porto-a-Porta also has reduced cargo insurance (ad valorem 0.03%) and operates in the round-trip system that includes the return or collection of empty containers.
Click here to learn more about this and other services of Sepetiba Tecon.
Railway Services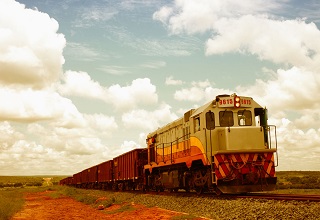 FTL transports cargo such as fuel, pulp, cement, steel products, and containers. The 92 locomotives and 1,434 cars transport cargo through the railway currently in operation, with 1,190 km (link to the map) connecting the Itaqui (São Luis/MA), Pecém (São Gonçalo do Amarante/CE) and Mucuripe (Fortaleza/CE) ports. FTL has yards for different types of bulk materials, such as limestone and coke, and, depending on future demand, expects to build warehouses for cargo in general strategically located near ports, road junctions and high consumption regions.
TLSA, currently under construction in the states of Piauí, Ceará and Pernambuco, will transport primarily bulk solids (ore and grain). The world-class railway will have the capacity to transport 30 million tons per year. By connecting the regions deep within Piauí (Eliseu Martins) to the ports of Pecém (CE) and Suape (PE), the 1,753-km railway (link to map) will be key to the distribution of those products to foreign markets.
MRS Logística (MRS Logistics) is a railway load operator that manages, through a federal grant, a network of 1,643 kilometers that extends through Minas Gerais, Rio de Janeiro and São Paulo, with access to five ports in the region, including Port of Santos, the largest in Latin America. Since its creation in 1996, the company nearly quadrupled the volume transported each year, and now accounts for about a third of the national railway total production, with more than 160 million tons transported in 2015. Among the main segments served are mineral commodities (iron ore, coal and coke), agricultural products, steel products, basic materials (sand, cement and bauxite, for example) and containerized load in general, such as industrialized products and raw materials for industrial production.